News & Media  »  Baker Technical Institute designs and produces face shields for Baker County healthcare providers to battle COVID-19
Baker Technical Institute designs and produces face shields for Baker County healthcare providers to battle COVID-19
April 8, 2020
FOR IMMEDIATE RELEASE
Media Contact:  Sandy Mitchell, Baker Technical Institute, sandy.mitchell@bakersd.org, 541-524-2651
BAKER CITY, OR – Baker Technical Institute (BTI) is working to make face shields using 3D printers in their engineering lab to help Baker County healthcare providers and emergency first responders meet the rising need for personal protective equipment (PPE) during the COVID-19 pandemic.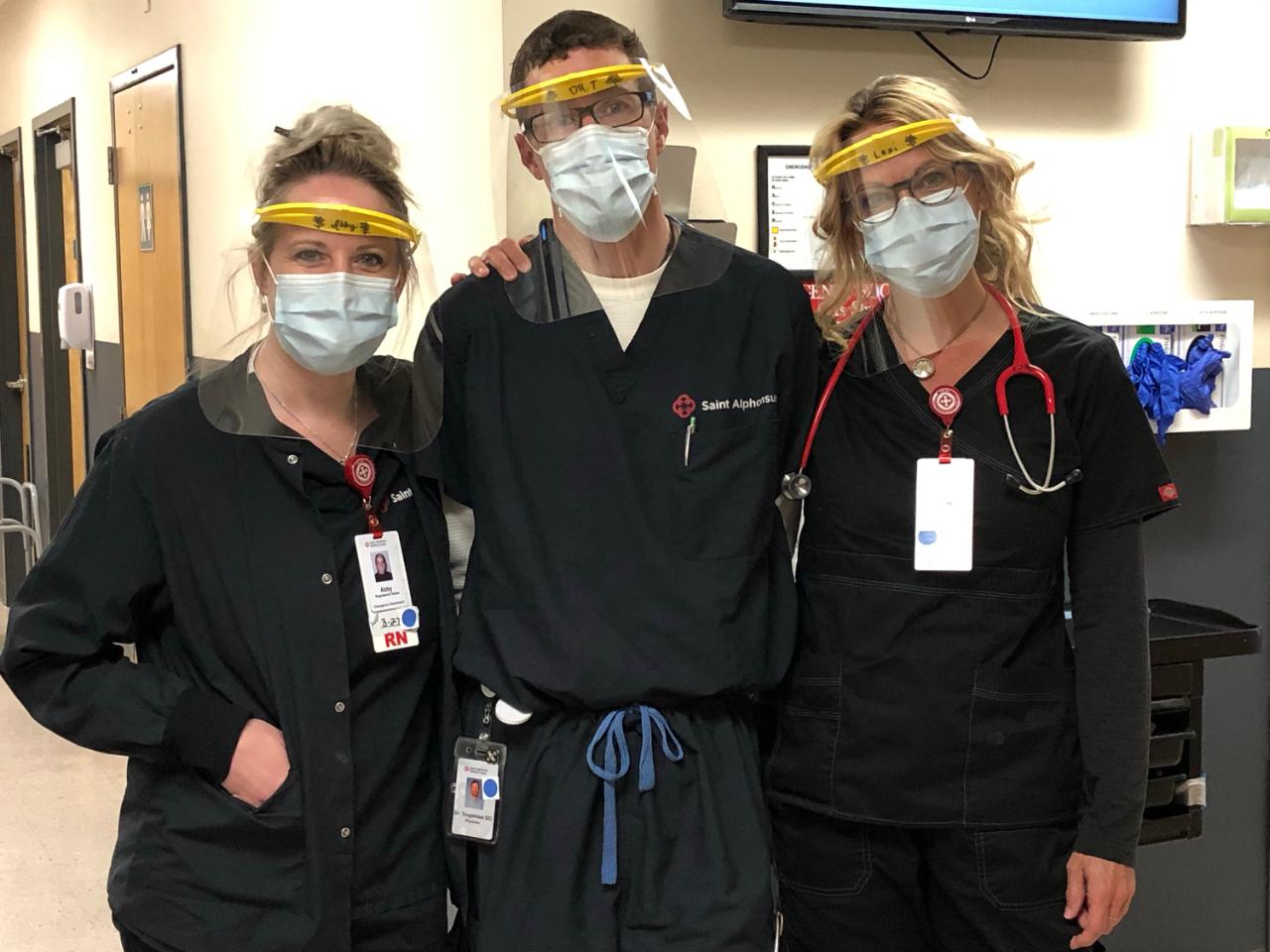 CDC guidelines recommend that healthcare professionals use face shields to protect themselves when in close proximity with patients showing COVID-19 symptoms. The demand for this type of safety equipment has outpaced the supply across the globe, leaving hospitals and clinics without enough of what they need on a daily basis.
BTI started working initially with Saint Alphonsus Hospital in Baker City, Oregon last week on their design needs for face shields.  "When the hospital reached out and asked if BTI could produce these, I was excited to have an opportunity to contribute to the cause," says Chris Wittich, BTI engineering instructor.  "We immediately went to work on the design and began prototype production with the use of 3D printers in our lab."  BTI completed the first models, then worked with the various healthcare providers to gain approval, and now is moving on to the production phase.  "We worked with Boise State University on the final design knowing that they had already worked through the medical approval process," says Wittich.  The masks are made by first printing the visor then cutting and attaching the thin plastic shield followed by an elastic headband.  The shields then are replaceable as needed. Currently, multiple printers are creating about three shields every three hours.
"Manufacturing these face shields for our healthcare providers is an incredible gesture from BTI.  It will allow us to further protect our colleagues on the front line fighting this pandemic.  This effort demonstrates BTI's innovative organizational cooperation, which is one of the many community strengths found in Baker City.  We are truly grateful."  Dr. Leslie Jackson Vice President of Medical Affairs Saint Alphonsus Baker City.
BTI is currently producing fully assembled face shields for Saint Alphonsus Hospital, Saint Lukes Clinic, and Baker County Emergency Management.
If other communities or healthcare providers are in need of this product please contact BTI at 541-524-2651.
#####
About Baker Technical Institute
Baker Technical Institute (BTI) is a leading provider of Career Technical Education programs focused on developing the next generation of skilled workers, technology innovators, entrepreneurs, and community leaders in rural communities. Headquartered in Baker City, Oregon, BTI offers cutting-edge education and training, leading to certification in high-wage, high-demand careers, such as agricultural sciences, building trades, natural resources/environmental sciences, engineering, health services, welding, heavy equipment operation, and manufacturing.