News & Media  »  Wallowa Memorial Hospital Partners with Baker Technical Institute for Nursing Assistant Training
Wallowa Memorial Hospital Partners with Baker Technical Institute for Nursing Assistant Training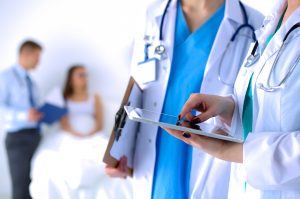 May 1, 2020
BTI to provide training to help close the workforce gap that exists in healthcare across Eastern Oregon 
Baker City, Ore.- Baker Technical Institute (BTI) is pleased to announce a partnership with Wallowa Memorial Hospital to provide local training in their area to increase the number of Certified Nursing Assistants in the region.
With an unprecedented aging population, the healthcare field is in high demand. Between an increase in the need for skilled nursing staff, and the lack of workforce training in Oregon's rural and frontier communities, there is a shortage of trained staff including certified nursing assistants (CNA). CNA's typically work in hospitals, long term care facilities, home health and hospice settings. Without a local training option, many of the positions are going unfilled. These gaps in filled positions increases the workload for those who are employed, which in turn increases the burnout rate.
Wallowa Memorial Hospital, located in a rural area of Northeast Oregon, faced the same issue of a lack of accessible training, so they reached out to BTI and expressed a need for a CNA class in their area. "With many of the BTI trainings having the ability to be mobile, we are able to reach out to the rural communities and provide the training right in their area," says Tonia Springer, Program Coordinator for BTI.  "By offering trainings in these remote areas and removing the barrier of people needing to travel and leave their families, more individuals are able to participate, creating an increase in workforce development and filling these gaps in employment.  Often times if people are from these rural areas they are more likely to stay and become long-term employees, all they need is the training and a start."
BTI's Nursing Assistant Program is approved and regulated by the Oregon State Board of Nursing. Students enrolled in the class attend 80 hours of classroom/lab time and an additional 75 hours of clinical time with patients. Students must be able to pass a background check before entering the clinical setting. Once the course is complete, students are eligible to take the state CNA test to become certified. The first class is set to begin January 3rd.
Follow us on Facebook or visit the website at Bakerti.org to learn more about the courses and programs available at BTI.
About Baker Technical Institute
Baker Technical Institute (BTI) is a leading provider of Career Technical Education programs focused on developing the next generation of skilled workers, technology innovators, entrepreneurs, and community leaders in rural communities. Headquartered in Baker City, Oregon, BTI offers cutting-edge education and training, leading to certification in high-wage, high-demand careers, such as agricultural sciences, building trades, natural resources/environmental sciences, engineering, health services, welding, heavy equipment operation, and manufacturing. For more information, go to bakerti.org.
About Wallowa Memorial Hospital
Wallowa Memorial Hospital is a 25 bed critical access hospital and Level IV trauma center located in Enterprise, Oregon. Built in 2007 to replace an aging facility, Wallowa Memorial Hospital serves the residents and visitors of Wallowa County. For more information go to wchcd.org.